Episodes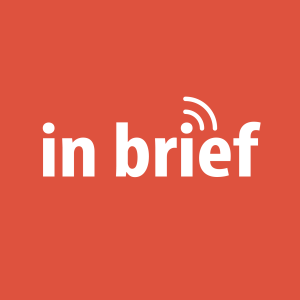 Thursday Aug 03, 2023
Thursday Aug 03, 2023
We have extremely exciting news for you all — Rio Peterson, who you may already know from Clio — has joined ALPS as our Bar & Affinity Partnership Strategist! Mark sits down with Rio to welcome her to ALPS and hear about her new role! 
Transcript:
Mark Bassingthwaighte:
Hello, I'm Mark Bassingthwaighte. I'm the risk manager here at ALPS, and welcome to our first video podcast recording of ALPS In Brief, the podcast that comes to you from the historic Florence building in beautiful downtown Missoula, Montana. You'll notice I'm sitting here with our guest, Rio, and more about her in a moment. Now that we're on video, a couple of things. For those of you that listen you finally get to see a little bit of what the remote office in Florida looks like. Maybe I'll have to do a little camera spin at some point. But I'm also thinking we need to maybe post some videos or a short video of the beautiful historic Florence building in downtown Missoula, Montana. People keep hearing about this.
I do have as my guest today Rio Peterson. Rio is someone I've worked with on and off through the years when she was at Clio, and she is now a very valued new member of the ALPS Corporation here. We're going to be talking a bit about that. As we were talking, Rio, I'm based in Florida, as many of you know. Rio is based in Vancouver, BC, which makes us... This is a unique podcast. We are the two employees, I think, the farthest apart. Here we are.
Rio Peterson:
I think so too.
Mark Bassingthwaighte:
Kind of an odd little thing. Really, folks, what I wanted to talk about today, I do some presentation, I've been doing it for a lot of years, on the basics of lawyers' professional liability insurance, and some programs on how to buy, really explaining what coverage does and doesn't do. Really digging into the ins and outs because so many lawyers, I think, really don't even know what their coverage is until all of a sudden a claim arises. That's the first time they pick it up and oh my gosh, oh my gosh. It's worthwhile knowing what your policy covers.
But I also talk about value adds, and when you're thinking about purchasing insurance, looking at or asking the question, what are you getting for your premium dollars? There really should be a bit more than just the peace of mind that the policy can bring. Companies are doing all kinds of things and today we are going to talk about some of the value adds that ALPS has. So before we jump into this a little bit, Rio, could you just give us a little bit of brief background, a verbal bio, and I'll share a little bit more about myself, but I'd love for you to start.
Rio Peterson:
Yes, absolutely. Thank you first of all for having me. It's very exciting to get to span the Continental Divide with you today. I came to ALPS by way of Clio, which is a Canadian-based legal practice management software tech company. I was at Clio for about five and a half years where I managed Clio's Bar Association Partnership Program. Clio and lots of other companies just like ALPS partner with bar associations across North America to really provide value to their members in the form of lots of different ways, which we'll talk about shortly. But as part of that role I did a lot of public speaking, a lot of education about best practices for running a law firm, and just kind of a lot of event attendance, different things. But ultimately it was my job to make sure that the relationships we had with these bar associations were mutually beneficial, that everybody was winning when we partnered together.
Mark Bassingthwaighte:
Folks, I don't know how often or how far we've really driven down. I'm the risk manager here at ALPS. I've been with ALPS now... It's been over 25 years and always been in the role of risk manager of some sort. What that term means or has meant over the years has changed a bit, but I have done a tremendous amount of consulting with firms of all shapes and sizes all over the country. Do a lot of content creation, a lot of CLE development and lecturing, a lot of writing, some podcasting, those kinds of things. I really view myself as a content guy and I've had a lot of fun. One of the things that we do is a major CLE tour every year in Virginia, and it's up to 14. I think the highest we got to was 18 events, three-hour events in one tour.
But the unique thing about this is I get to write movie scripts, and actually go up to the Virginia, and we hire a professional crew and actors and all this. I just never thought. I've written now I think 20 separate films and that's just been a lot of fun. I share that because again this risk side has been supporting bar associations as well. We do that in conjunction with Virginia State Bar and it's been a very, very successful program.
Okay, Rio, let's get back to you and what you're doing. If my memory serves, I love your position title. You are, and make sure I'm right on this, the bar affinity partnership strategist.
Rio Peterson:
Yes.
Mark Bassingthwaighte:
That's just awesome. It sounds very dignified and very just this special thing. Can you explain really practically, day to day, what does that mean? I guess I'd like to know two things. One, what is your interest in this, and then why is this important? What is the value add for any insured? So let's just kind of explore all this.
Rio Peterson:
Yeah, fantastic question. So it's interesting, I sort of fell face first accidentally into this role and this line of work. Something that really, really appeals to me about it is I'm very passionate about relationships, building relationships. I am also a big fan of helping people succeed. There's a lot of, I think, gaps that lawyers experience in their knowledge when they come out of law school and they're looking to run a practice. My role really allows me to be hands-on with helping to provide some guidance, and extra resources and support to help those legal professionals thrive. The way that that kind of comes about is, well, I mean, as we all know, bar associations tend to hold a level of authority and a level of guidance, and lawyers tend to look to them for those things. So it's very obviously advantageous for any partner or any company to partner with a bar association and get their stamp of approval.
That's the ideal because if the bar says you're good to go then very risk-averse lawyers are much more likely to give you a second look and give you the time of day. But it really is about a lot more than just getting that stamp of approval. I mean, that's only a small part of it. When I think about partnerships, I mean, they are just that. They have to be a mutually beneficial experience for everyone. If we were just to go to the bars and say, "Hey, just give us your stamp of approval and then you'll never hear from us again," well that's not really the greatest experience for really anybody. I mean, what is the bar getting in exchange for that stamp of approval? So my role as a strategist is to really come up with a strategy, a way, a plan to maximize those relationships in order to provide additional value to our partners that they can then pass on to their members.
So for example, with content, I mean, we're talking about content and how you provided a lot of risk management content. I mean, a lot is an understatement I feel like, but that's kind of a strategy, I guess, or a way forward that I would consider to be adding value to our partnership. A lot of bars have... They're running on a small staff. They don't have the resources to create extensive amounts of content for their users. They often don't have a staff member who specializes in something like risk management. So it's for me to identify those opportunities to then say, "Hey, my partner, I can provide you with this. I can give you these resources, I can give you this support so that we are both flourishing as part of this arrangement."
Mark Bassingthwaighte:
So what I'm hearing is is there's two pieces to this. We're looking at providing resources that are going to be beneficial to members of the bars that we partnership with, but we are also, am I hearing correctly, really trying to support the bar associations themselves so that there's a value add to the bar. I'd really be curious, what are your thoughts? I hear some discussions at times traveling around the country and just talking to lawyers in all sorts of settings. There are some that will say, "I just don't see the value of a bar association," and there's some complaints. "I'm paying the dues," and all these kinds of things. I truly would be curious, what are your thoughts? Do you see bar associations as serving a purpose? Do we really... I'm not sure how to say it. Does this make sense for a company like ALPS to do this? I don't know. What are your thoughts?
Rio Peterson:
Yeah. Oh, I love this question. I love this question because it really is, I don't know, a topic that a lot of bars and a lot of legal professionals have been wrestling with in recent years. I mean, we've seen so many changes with bars like the California Bar becoming... Is ununified the right... Deunified?
Mark Bassingthwaighte:
Yeah.
Rio Peterson:
Yeah, right?
Mark Bassingthwaighte:
Yeah, that works for me.
Rio Peterson:
You know what I'm trying to say, right? Well, we see a change in bars and really, just as you said, their role and their level of importance is being questioned. So my personal opinion is that yes, the bars are very important. They provide professional guidance. They ideally should be providing support to solo and small lawyers who are running their own law firms who are not sure what they're doing, who are trying to make a go of things. I do think they have a very important role to play, but something that I see frequently is that the way in which the bars view themselves hasn't really changed. A lot of, say, the mandatory. If you can count on members having to join, why would you change the way that you are delivering value and service to your members because they don't have a choice to be there?
So I'm not shocked that a lot of lawyers and legal professionals are questioning whether or not the bars need to be, or whether or not they should be as involved as they are. But really I do think it comes down to those bars needing to evolve with their membership, needing to connect better with members, and see really what post-COVID legal practice looks like and how they can better meet those members' needs.
Mark Bassingthwaighte:
Yeah, I absolutely agree with you. Again, in a lot of the programming that we do in terms of CLEs and really pushing some of the ethical boundaries in terms of exploring them and looking at just business models and all kinds of things, I have always been one that says it's more important than ever. And I think about even the evolution of ChatGPT and where AI is going. There's a lot of folks out there saying, "This is going to be the end of lawyers and the end of legal professionals, paralegals," and all this stuff. I'm not sure I go that far, but it is important. Where I'm going with this is that I think lawyers too have been... Lawyers at large, there are going to be exceptions to all of this, but as a profession, we tend to be slow in terms of adopting and changing business models. You keep saying, "The billable hours got to die," and it just doesn't seem to die, just as an example.
Rio Peterson:
Just slow down.
Mark Bassingthwaighte:
But we do need to continue to evolve with the changing needs of the marketplace. And I think bar associations struggle with that too, because their marketplace is the bar at large, but they have struggled with trying to reinvent themselves and trying to figure out where to go. And I hear you saying, and I really think this is... I'm 100% behind what I hear you saying is one of the things that a company like ALPS can do is be a partner in helping work that conundrum, work that problem. Let's figure out how because I think too carriers need to continue to evolve and change. How ALPS did business 25 years ago and a little longer, it's very, very different from how we do it today. Making online applications. We have this, "Give us 20 minutes, we'll give you a quote," kind of thing. That's unheard of 20 years ago in this space. It's just absolutely. So exploring the relationships and trying to figure out what we could do with bar associations is a value add to the bar and I think is a value add to us. I mean-
Rio Peterson:
Yeah. So-
Mark Bassingthwaighte:
Yeah, please.
Rio Peterson:
I hope you don't mind if I just...
Mark Bassingthwaighte:
No, no, no.
Rio Peterson:
I really do think that kind of helping bars navigate the need to update, and adjust, and change is really an excellent kind of place for ALPS and companies like us to really come into play and be a part of that. Bars, they're like snowflakes, just like legal professionals. They're all different and they all have different challenges and different changes in modernization that they need to make. The great thing about ALPS and about other companies is that we're out in the world and we get exposed to a lot of really different experiences, lots of different kind of content, just a whole galaxy of different opportunities and knowledge that we have that we can then pass on to our partners and really help them navigate these divides.
For example, with reinventing events post-COVID, I mean, we have so many partners who are struggling with this. And as a company who attends a lot of events, as a company who hosts its own events, we have a lot of knowledge and information that we can share with our partners in order to really help them reinvigorate that, and increase their engagement and bring members back into the fold.
Mark Bassingthwaighte:
One of the things, folks, that I shared earlier, I'm very excited to have Rio join ALPS. As I see it, man, when I think what Clio loss and what ALPS gained is just... This is a win, big time. There's a lot of excitement, a lot of energy. Trust me, folks, excitement, energy is just... Rio's all about that. It's just such a joy and a lot of fun. Do you have some just, how do I want to say this, kind of off the cuff, off just rapid fire even kinds of things? What ideas, what thoughts, what direction, where do you want to go with this position, let's say, in the next two to three years? Let's take, well, certain realities. There's sometimes some fiscal realities, whether they're corporate or whether they're bar side, but if you could flash this wand and make the changes, where do the bars need to go? We talk about reinventing themselves. What are your thoughts about how does this value add come back?
Rio Peterson:
Yes, yes. Well, I mean, ultimately I would love for ALPS to be kind of the authority on a lot of different topics and obviously the first choice for bars to turn to when they have questions. I think I could address this question in two different ways. First of all, for the program in terms of ALPS, right now we've got 19 partners. I would love to see all 50 states at some point. That would be my big dream. If I could just wave my wand, I would love to see that happen. I feel that there are a number of different levers that can really be used to grow the program and really increase the impact that we have through advertising. Obviously content creation and sharing is central to that. Also fiscal incentivization, financial incentivization, some kind of maybe revenue sharing. We'll see. Who knows? There's some interesting ideas we could play with, but lots of different options. Oh, I see the wheels turning.
Mark Bassingthwaighte:
Do you see tech leadership coming into play at all here? Is there a place for that?
Rio Peterson:
Oh, absolutely. I think ALPS is kind of perfectly primed to partner with tech companies. I think really in a similar way that we partner with the bars too. If you think about it, having coverage and having insurance is a central part of running a firm. But when you partner that with say legal practice management software or something that's going to help you stay on top of your communications and reduce ultimately the risk that you have for claims, that to me is like a match, just a perfect match. Then you've got this kind of unstoppable partnership of two, three, maybe even multiple companies who provide excellent content, provide kind of a holistic view of a law firm. Really, yes, I think that's a fantastic opportunity and exciting frontier I would love us to explore more.
Mark Bassingthwaighte:
Yes. You know me. I can get a little crazy and wild at times.
Rio Peterson:
Oh, me too.
Mark Bassingthwaighte:
One of the things that I've been playing around with of late. Folks, some of you, if you hear me over the years, I'm not a high risk-taker and I'm also very private. I'm not one actively involved, at least in my personal life, on all sorts of social medias. Our kids always say, "Well we have nothing to hide, Dad," and I said, "Well, it's not about hiding. When you put everything out there people can take advantage of this information." But the point of all this-
Rio Peterson:
I think we could-
Mark Bassingthwaighte:
Well, I-
Rio Peterson:
I'm sorry, go ahead.
Mark Bassingthwaighte:
I made a jump. I decided because I keep... We're State Farm people and our agent is a good guy. "Mark, you got to start using this drive safe app." And I'm thinking, I don't want them tracking me all over. I just don't think so. I finally have been convinced, so I'm playing around with this-
Rio Peterson:
Oh, you hopped on board.
Mark Bassingthwaighte:
... This drive safe and just exploring and all that. What about the equivalent of a drive safe app in the malpractice space?
Rio Peterson:
Oh, yes.
Mark Bassingthwaighte:
Wouldn't that be interesting?
Rio Peterson:
Yes.
Mark Bassingthwaighte:
Could you tie that in with the bars? I don't know, but I just thought... I'm sitting here going like, okay, my head just starts popping. I get all these crazy ideas, but why not?
Rio Peterson:
Yes. And I find that idea really, really interesting because I think it also ties in really well to working with tech companies as well, being more of an integration partner as opposed to just an affinity partnership. Then that's also an incredible value add to provide to bar associations. Kind of back to our point about where I see the program going and with bars, I think the really the biggest thing that the bars need to hop on board with is opening their minds to the ideas of those types of possibilities. Thinking completely outside the box, what is something different and new that we haven't even thought of? Really also starting to see vendors, to see companies as a resource for that type of thinking and for those types of ideas. Not to toot our own horn, but we've got some great ideas as you just mentioned.
Mark Bassingthwaighte:
We do like to think around here, and it's one of the things I really love about ALPS, just as an aside. I don't stay at a company for 25-plus years just because. There's a lot of good things going on in this company, but one of the things that I really like is there's strong encouragement to think "outside of the box". But it's for real. We're not checking off a box. Let's everybody think outside the box and now we'll go back and do exactly what every other-
Rio Peterson:
And then we're done and we don't have to do anything.
Mark Bassingthwaighte:
No, no. You're not going to stay relevant in the market. Change is... So what we're talking about and hoping and trying to help bars do, we also live by the mantra. We really do. We're-
Rio Peterson:
Yes. And I-
Mark Bassingthwaighte:
Yes, please go ahead.
Rio Peterson:
Oh, sorry. I was just going to say along those lines, I mean, I was at Clio for five and a half years and it was a really incredible experience, but I considered very, very deeply about joining ALPS. It was a decision I took very seriously, and that was something that was really, really appealing to me, is this embracing moving forward. And not just change for the sake of change, but intentional, encouraging people to think bigger and think about how we can implement those ideas and actually moving forward with them. That was just a really big draw and selling point to me. That's been my experience thus far in my two months at ALPS. That's absolutely been the experience.
Mark Bassingthwaighte:
Very good. I want to share just a little bit about myself and start to wrap here, but then I want to come back to you because I think you're going to be good with this. Folks, one of the things I want to share, and I need to be better about getting this message out. You have heard me say for a long time that I am a risk manager here at ALPS, and I really want to let you... What does that mean? I am not a traditional, if you will, CRO, chief risk officer. I am not hired to manage the risk of this corporation. I am hired to be your risk manager. I am hired to be a risk manager, if you will, for the bar at large. You do not need to be on the opposite shore to visit with me. You can reach out anytime via email or our phone.
There's no cost involved. If you have a question or concern on ethics, risk management, practice management, cybersecurity, on and on, I will do the best I can to help. If I don't have the answer on the top of my head I will try to do what I can to get it for you. So that said, let me just share what our phone number is. It's (800) 367-2577. You can just call in and ask to speak to that risk guy because Bassingthwaighte can be a hard name to remember, but Mark. B16 is another good one. You may also reach out to me at mbass@ALPSinsurance.com. Feel free anytime.
Now to kind of tie this back to what we've been talking about here, again, folks, Rio is just a rockstar in my head. This is such a good point of evolution, continuing evolution for the corporation, for ALPS and where we're going to go. When she says, "I'd like to see 50 bars," I don't know if we get the 50, but I'm not going to bet against her. But I would invite you, and Rio, I think you're going to be open to this, if any of you folks... We are talking about value adds and I agree with Rio. I think bar associations still can be very, very relevant, and I think serve a great purpose, but do need, and some struggle with this more than others, but [inaudible 00:27:13] how do they remain relevant? What does that mean? What is the value add?
We are in a position where we can help. Let us help you. If you have some thoughts or ideas, "I would love to see ALPS do this with our local bar," how can we help? I invite you and encourage you to reach out to Rio, and Rio if you would share your... I assume you're good with this. If you would share your email address as well, and any closing thoughts that you have, and then we'll wrap.
Rio Peterson:
Yes. Yes. So to your point, it is literally my job to help our partners be successful, and by extension their members and legal professionals be successful. This is something that I have quite a bit of experience in, and frankly, I just really love helping people succeed and helping organizations succeed. So yes, please reach out. Absolutely. I've got lots of great ideas. We have a fantastic team here that is just ready and willing to offer any support that we can. So please email me at rpeterson@ALPSinsurance.com. Yes, I would love to hear from you. I am more than happy to answer questions. You want us to come out, want Mark to do a fantastic CLE. They are incredibly interesting and hilariously well done.
Mark Bassingthwaighte:
Well, thank you.
Rio Peterson:
Yes, so if you're looking for speaker, sponsorships, anything please reach out. Yeah. Happy to help.
Mark Bassingthwaighte:
Well, Rio, it's been a pleasure as always.
Rio Peterson:
As always.
Mark Bassingthwaighte:
And we're going to be seeing each other multiple times on Teams and all the other things we do. But I look forward, we're going to be getting together on the road here in a, I don't know, another six, eight weeks. But I look forward to seeing you in Virginia. Actually, we may be in Denver. I'm going to see you in Denver next week.
Rio Peterson:
Oh, oh yes. That's right, that's right.
Mark Bassingthwaighte:
There we go, so.
Rio Peterson:
We'll see each other in Denver.
Mark Bassingthwaighte:
Sounds good. All right. It's been a pleasure.
Rio Peterson:
All right.
Mark Bassingthwaighte:
Thanks all.
Rio Peterson:
Thank you so much, Mark.
Mark Bassingthwaighte:
We'll see you later. Bye-bye.
Rio Peterson:
Bye everyone.